Industrial Freezer Repair Near You
Industrial freezers are engineered to manage extensive cooling needs and uphold exacting temperature control. Yet, as time passes, these intricate appliances may encounter challenges that impair their efficiency and dependability. At AFE, we understand the urgency of getting your food processing equipment up and running promptly. That's why our dedicated team focuses on delivering quick and efficient industrial freezer repair services across the United States that align with your business objectives. In fact, our technicians can be on the road the same or next day to provide onsite industrial freezer repair for your equipment.
Since 1990, our sales application engineering team has rebuilt, improved, modified, and repaired cooling and freezing machines from a variety of manufacturers. We have a wide inventory of interchangeable parts on hand, which we can integrate into your existing machines. We can also offer guidance and recommendations for all types of food processing equipment repair. Our goal is to perform repairs quickly and efficiently to alleviate any operational disruptions, putting you back on track without delay.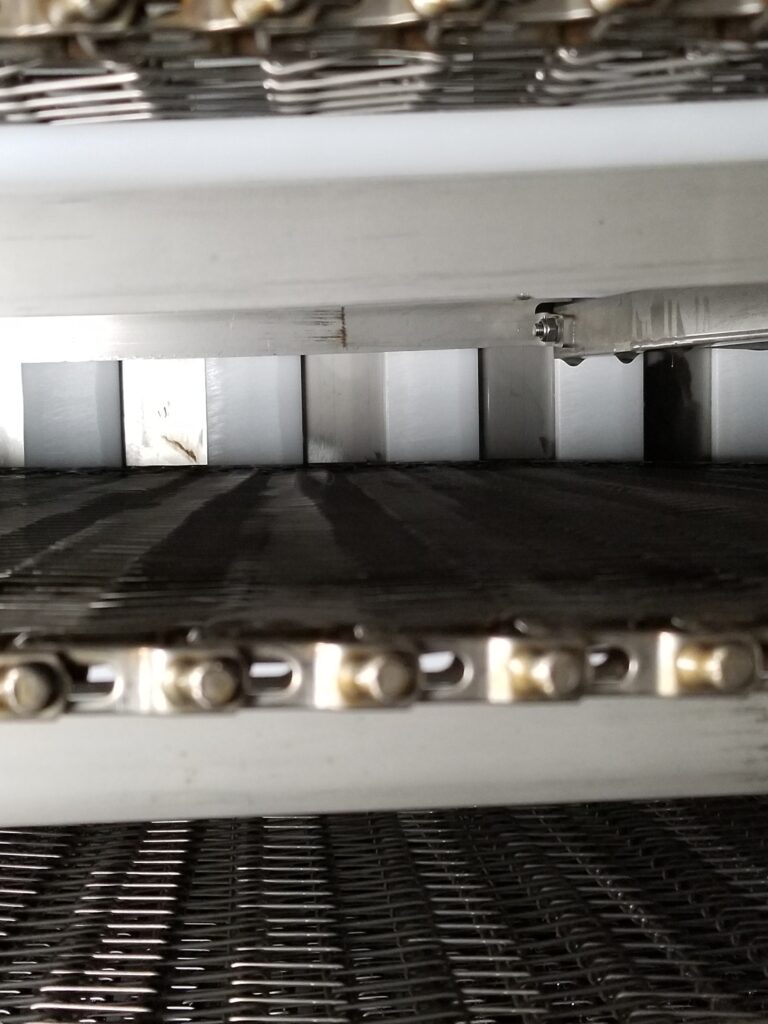 Types of Industrial Freezers Served
Our well-trained technicians are available around the clock and ready to come to you with a full range of services for a wide variety of industrial food freezers, including:
IQF Tunnel Freezers
Spiral Freezers
Spiral Coolers
We also repair shakers, spiral steamers, and related industrial food equipment.
We are proud to provide repairs, maintenance, and spare parts not only for our freezers, but also for comparable models not sold by AFE.
Common Industrial Freezer Repairs
Our technicians have an extensive background in all types of industrial freezer repair and are available to provide quick turnaround times and exceptional service in your area. We provide prompt and thorough repairs for numerous freezer and cooler issues, including the following:
Belt, enclosure, or bearing issues
Condenser or evaporator coil issues
Total belt rebuilds
Enclosure repair
CIP and SDS sales and installation
Quarterly service visits
Inspections
Engineering and modifications
Replacement spare parts
Replacement wear items (e.g. UHMW rollers and drum shapes)
Frost or ice build-up
Insulation or sealing problems
Why Should You Trust AFE to Fix Your Industrial Freezer?
State-of-the-Art Diagnostics
When your industrial freezer starts to give trouble, our team uses industry-leading diagnostic equipment to determine the exact issue. Our technicians have extensive knowledge about a wide range of food processing equipment, allowing them to detect inconsistencies in temperature, defective electrical parts, and more. By providing precise diagnostics, we set the stage for efficient repairs.
Fast Service
We understand that the need for industrial freezer repair can arise at any time. That's why our proficient technicians are available promptly — usually within two business days — to serve you. Whether you need an urgent repair or routine maintenance, we are committed to providing our customers with fast service.
Experienced Technicians
At AFE, our team of technicians is our most valuable asset. Each member of our team is highly skilled and possesses a wealth of experience in industrial freezer repair. Our specialists undergo rigorous training and continuous professional development to stay updated on the latest freezer technologies and repair methods.
Authentic Replacement Parts on Hand
If your industrial freezer requires replacement parts, rest assured that we have a vast selection of premium-grade components at our disposal. We work in close partnership with trusted suppliers to source the appropriate parts for your specific freezer model. In addition, our team is committed to using only authentic parts in our repairs to ensure the extended reliability and lifespan of your freezer.
Maintaining a diverse and sizable stock of spare parts allows us to promptly respond to your needs. With short delivery times and constant supply, we ensure your vital machinery remains operational at peak capacity.
Extensive inventory of parts on hand so they're available when you need them!
Interchangeable parts: Many of our parts can be used across a wide range of food processing equipment, saving you time and money
Unsurpassed reliability and long-term durability
Operational safety assurance
Full support and warranty
Our industrial freezer parts are available for direct sale. From motors and UHMW to belting, bearings, and gear boxes, we have the parts or can promptly manufacture the parts you need to keep your industrial freezing equipment in operation. Read more about our genuine, readily available industrial freezer parts.
State-of-the-Art Maintenance
Ensuring that your industrial freezer remains in peak working condition is a priority for us. Our maintenance services include comprehensive inspections, and proactive repairs to prevent potential complications. Through the early detection and rectification of minor issues, we not only help you to avoid expensive system failures, but we also allow you to extend the life of your industrial freezer.
Read more about our expert preventative industrial freezer maintenance services..
Upgrades
Thinking about upgrading your industrial freezer? If you need help picking the right model for your business, our experienced team is ready to help. We offer expert guidance and personalized assistance based on your unique needs. Our staff will aid you in making informed decisions that align with your cooling or freezing requirements.
Contact Us Today for a Free Industrial Freezer Repair Quote
We're committed to helping you maximize the performance and reliability of your food processing equipment. We have technicians throughout the United States who are ready to come to your location and get your industrial freezer or other equipment up and running in no time.