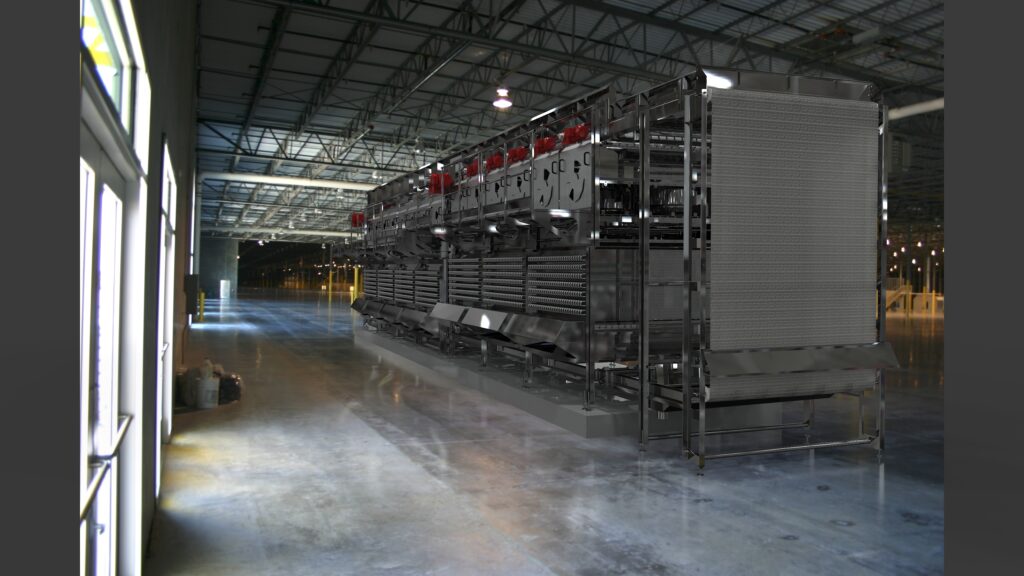 AFE created one of the world's largest freezing tunnels.
Leading meat processors rely on our IQF (Belt) freezers for safe and dependable food processing. Manufactured with stainless steel, IQF tunnel freezers are safe and worry-free food-processing freezers that offer ease in cleaning and unsurpassed reliability.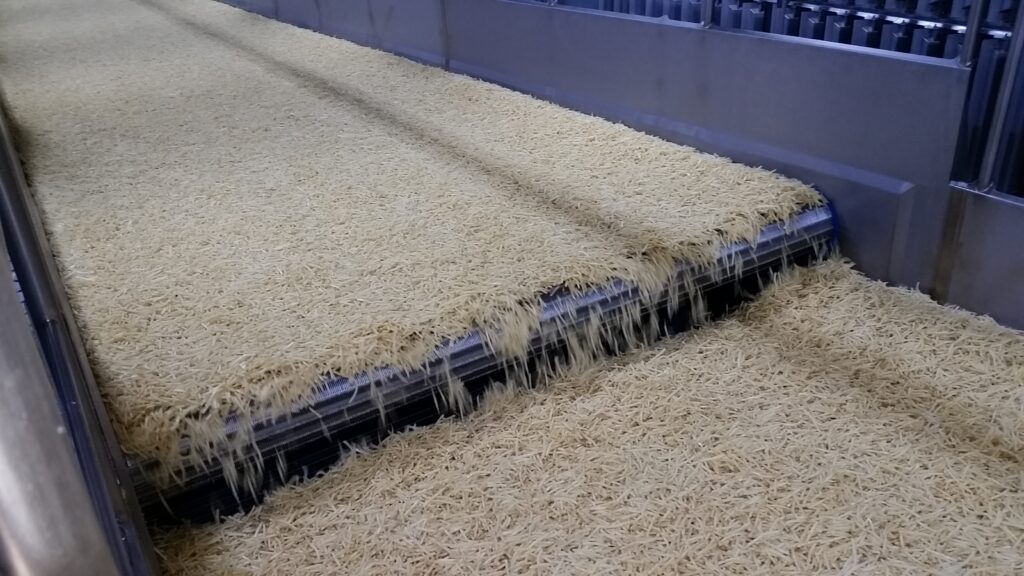 IQF tunnel freezers are cascade, inline positive-conveying freezers that circulate cold air through your food products. The freezers are engineered and built for your production needs.
Through the IQF tunnel, excess surface water is removed, and cold air is recirculated using a pre-cool zone, where moisture is sealed in and product is separated. A core freezing zone uses continuous fluidized agitation to remove product core and latent heat.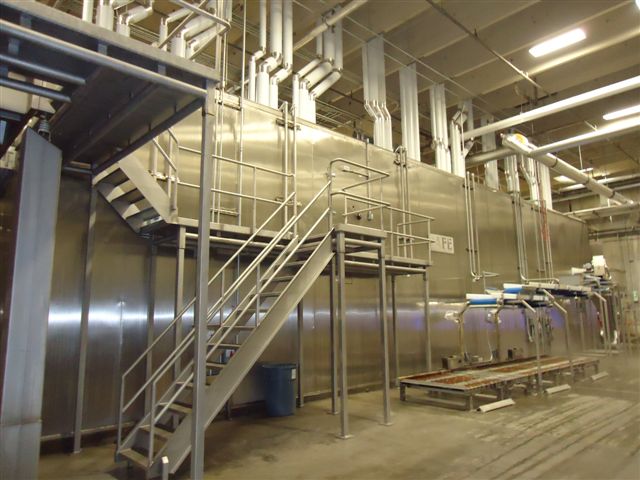 Benefits of AFE IQF Tunnel Freezers:
Excellent freezing quality
Reduced product shrinkage
Coil is shielded from contamination
High pressure washer system
Modular design allows for future expansion
AFE's IQF Tunnel Freezers have been provided since 1990. AFE IQF Tunnel provide the ideal freezing process, whether processing heavier food products like broccoli or mango or processing lighter food product like raspberries. We can custom manufacture your IQF Tunnel Freezers to suit the water content, weight, shape, and fragility specifications of your food products.
LARGE CONTINUOUS OPERATION VEGETABLE FREEZERS
Continuous operation for a day or days without stopping
High production, built to meet your production needs.
Full sequential defrost for multi-week runs
Reliable
SS welded or SS clad panels
Can be used for all vegetables including leafy herbs and spinach
PACKAGED FREEZERS FOR MEATS AND VEGETABLES
Modular and installs in days
Air defrost or sequential defrost
Drive motors external to freezer
Welded stainless steel enclosure
Particle and chunk products
Common capacities over 20,000 pounds/hr
CONTACT BELT TUNNELS
Modular or site built
Extended run or sequential defrost
Welded SS steel or SS clad enclosure
Common capacities over 20,000 pounds/hr
Can be used for wet, sticky products or liquid products
Virtually no belt marks
DRAG TUNNELS
Modular or site built
Extended run or sequential defrost
Welded SS steel or galvanized floor
Designed to meet production needs
Products loaded in carts
1-6 Lanes with separate retention times possible
EVAPORATORS
Stainless steel tube
Straight or staggered tube pattern
Wide fin spacing
Aluminum magnesium fins
Various configurations available
Sequential defrost for continuous operation
Air defrost to double run time
Extended run time coil design
WELDED ENCLOSURE
10-Year Warranty with leg supported floor system, the best warranty in the industry
Provided since 1990 and associated design experience.
CLEANING SYSTEM
Full foam cleaning system with zone control and strategically placed rotating nozzles. Single pass or recycle system. Steam pasteurization is available with a welded enclosure. Easy to clean and hygiene friendly. Continuous seam welding method seals each freezer to prevent bacteria growth and ease of sanitization.